July 12, 2021
Bulldog Fans:
The 2021 Thomasville Bulldog Football Season is fast approaching. Summer workouts are in full swing, expectations for this season are exceptionally high (again), and the players have been working extremely hard to prepare for the season. We strive to put the finest product on the field each and every week, and need your support to make the '21 season the best possible!
It is now time to renew your Reserved Seating Tickets! Our home schedule this year includes very exciting games against Brooks Co, Cairo, Bainbridge, Worth Co, and Berrien Co, all well-recognized rivals of Thomasville. We will start selling reserved seating on Monday, July 19th• Ticket office hours will be Monday through Thursday from 8 a.m. to 2 p.m. at Thomasville High School. Reserved Seating ticket packages are $60 ($12 per game). There will also be a slightly expanded Reserved Seating section referred to as Section O that are available for $50 per seat (No Seatbacks). You as a yearly season ticket holder will have until Friday, August 6th to purchase your season tickets. After this date, reserved seating packages will go on sale to the general public on a first come, first serve basis.
TD Club Memberships (One or Gold Club and expanded levels) will also be available during ticket office hours. Please make sure checks for TD Club Memberships are made out to: THOMASVILLE TD CLUB.


I have enclosed a copy of this year's Varsity Football Schedule; so make plans to join us every Friday night. I look forward to seeing a packed house of the greatest fans in the state cheering the Bulldogs on to victory as we work towards the 2021 State Championship!

Thanks again for your continued support. GO DOGS!!!!!
Zach Grage
Head Football Coach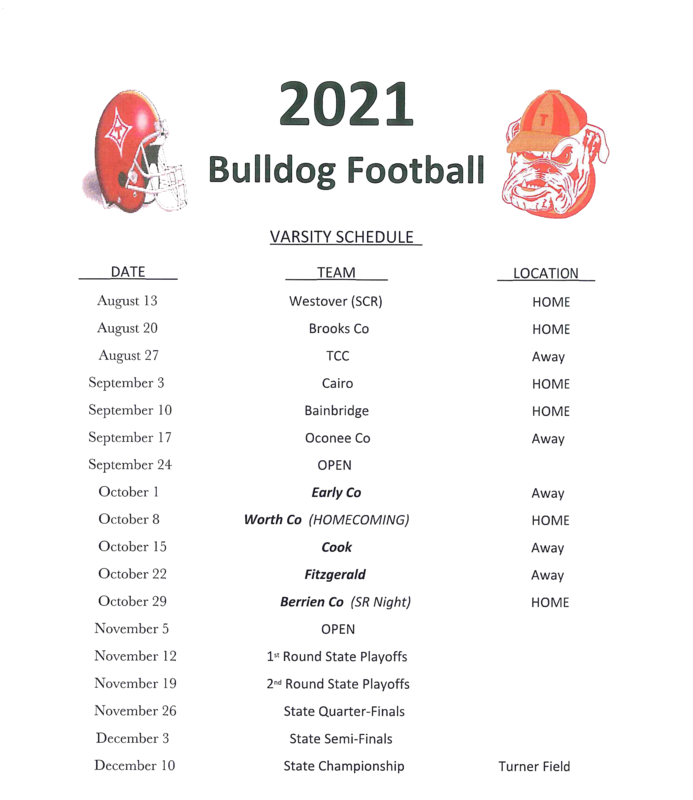 Click Here to Download the Schedule